Diesel Road Roller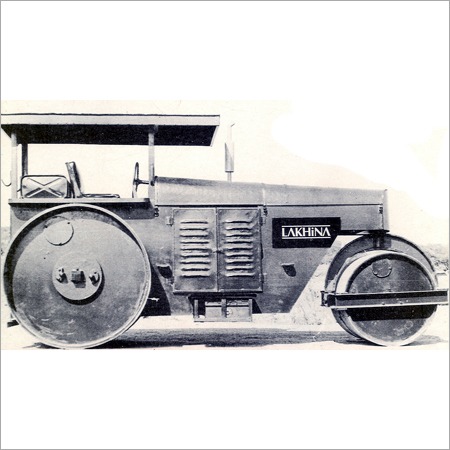 Diesel Road Roller
Product Description
Our expert professionals have enabled us in manufacturing and supplying excellent quality Diesel Road Roller. This roller is fabricated incorporating advanced technology to suit the variegated demands of clients. To win trust of clients, this roller is duly checked on various parameters to ensure flawlessness. We assure to provide excellent quality output to clients thereby appreciated by a number of clients. This roller is highly acknowledged for smooth operation, flawless finish and high tensile strength. Diesel Road Roller is widely used in various construction sites.

Other information:

This roller is made very decent, easy to operate. It has proved convincingly most ideal for such jobs where crushing action is required. The roller is specially constructed and designed for modern road building.
In general LAKHINA DIESEL ROAD ROLLER is a long life machine of modern design and is strong, robust and capable of withstanding continuous strain during operation at any site of work.
All the materials used are of best quality available in the country to appropriate Indian Standard Specifications or equivalent. The workmanship is of the highest quality and each part is tested thoroughly before assembly.
Features
Chasis: The chasis is fabricated from all steel plates, channels and angles wherever necessary supports for the pipes are given to stop vibrations. For carriage Tool Box, Battery Box, are enclosed with chasis.

Wheels: Front and Rear wheels are made of mild steel plate bended, with good quality interchangeable bearings. Water or sand can also be filled up in wheels for increase of weight.

Gear Box-Cum-Differential Box: The gear-cum-differential box with clutch housing is of heavy duty cast iron with three forward and one reverse speeds. All speeds can be changed easily by means of hand lever provided in left side by using of clutch, just like all vehicles.

Engine: The road roller is powered with the well known perkins P6 Diesel Engine water cooled developing maximum 83 B.H.P at 2400 R.P.M. With its patented AEROFLOW system of combustion. Having bore of 88.9(3.5) stroke 127 mm (5.7) and piston displacement 403 litres (288.06 cu.im.). Spare parts for the engine are easily available throughout India.

Clutch: The clutch is very easy and economical, operated by right foot like all the vehicles. Clutch plate, pressure plate, thrust bearings are easily available in the market and there is no speciality involved.

Final Drive: Both rear wheels are driven simultaneously by a driving shaft.

Controls: Steering wheel is given in the centre, clutch on the right foot, and brake on left foot. Accelerator is on Panel Board. Accelerator and engine stopping levers are on the the left hand of the panel. Ampere meter, oil pressure gauge, key starter switch, light switches and horn switch are also on panel board.

Bonnets, Canopy, Side Doors
All these are made of mild steel sheets.

Driving Seat: It is very comfortable foam seat covered with good quality and hard wearing water proof materials.

Output: It of tools in a built-in Tool Box.

Battery: Two batteries of 12 volts fitted in series, which can be time, if required. Terminals are bolt type.

Wiring: Batteries' wires are P.V.C. Heavy duty soldered with lugs and all other P.V.C. Wires are connected to lights, starter dynamo, Horn, Amp. Meter, required grade and good quality.

Lights: Head lights, side lights and parking lights are of very good quality fitted in perfect angles to give good performance.

Radiator: A heavy duty heat resistant radiator is fitted.
Technical Data:
| | |
| --- | --- |
| Without ballast | 8 Tons |
| With ballast/sand | 10 Tons |
| Width of rear rolls | 525 mm |
| Width of front rolls | 950 mm |
| Length | 400mm |
| Height with Awning | 2600 mm |
| Dia. Of rear rolls | 1500 mm |
| Dia. Of rear rolls | 1000 mm |
| Width of front rolls | 950 mm |
| Width of rear rolls | 525 mm |
| Fuel tank capacity | 75 litres |
Dimensions, weights and other particulars, including illustrations, are not binding in detail and are subject to modifications.
Contact Us
A-18A, Mayapuri Industrial Area, Phase-II, New Delhi, Delhi, 110064, India
Phone :+918037549100